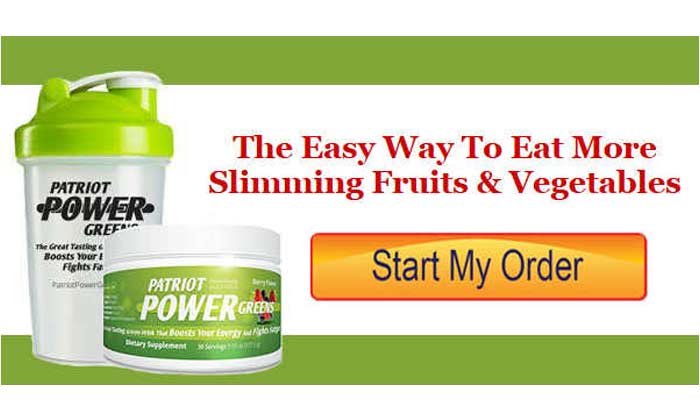 Patriot Power Greens : Is This General Health Supplement Safe?
triot Power Greens is a powder-based supplement which aims at improving the overall health of the user's body. The makers claim that it contains around 40 fruits and vegetables, with 6 essential digestive enzymes and 10 probiotics for gastrointestinal health.
Know More About Patriot Power Greens
Patriot Power Greens is an organic nutritional formulation which promises to bolster your overall wellness. This groundbreaking product basically comes in a berry flavor. It tastes sweet since it has some other superfoods like goji berries, acai juice, and apple as well to enhance its flavor and value.
The blend of potent ingredients promises to improve your digestion, sharpen your memory and give you a younger-looking skin without going through dangerous Botox injections. This holistic wellness supplement averts health issues like fatigue, joint discomfort, and irregular sleep patterns.
Moreover, it is supposed to provide benefits to senior citizens particularly, by improving their overall stamina, mental focus, and digestion. Overall, this easy-to-drink formula has a plethora of health benefits.
The Genius Brain Behind Patriot Power Greens
This general health formula is sold by the company called Patriot Health Alliance. The genius behind this advanced product is Dr. Lane Sebring, who is a veteran of the US Air Force.
Some Essential Features
Made in the USA
No GMO, Gluten, soy and dairy product
No chemicals and pesticides
GMP certified facility
100% money-back guarantee.
Patriot Power Greens Review: Who Is The Target Audience?
This particular supplement is targeted towards the senior citizens. The powder-based formula promises that by using this supplement, older people can feel young again! The product is mainly aimed at the people above the age of 50 years.
However, it can also be used by the adults who need a kick of vitality. This holistic healing formula can benefit those people also who are in dire need of stamina and energy in the gymow Does Patriot Power Greens Function In The Body?
Patriot Power Greens works by averting inflammation, which is the major cause of several diseases. The ingredients present in the supplement basically neutralize the excess acid in the body and aid in regulating digestion process too. This groundbreaking supplement prevents the risk of heart attacks and stroke seizure and assists in overall cognitive health.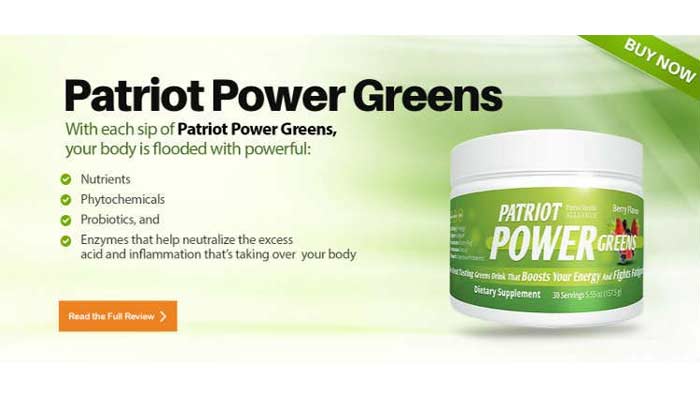 Let's Get Into The Ingredients List
Acai Juice
Beet Juice
Insulin Organic
Spirulina algae
Kombu seaweed
Nori seaweed
Wakame seaweed
Strawberry
Blackberry
Black Currant
Mango
Passion Fruit
Spinach and many more…
Patriot Power Greens Advertises That It Can:
Fight inflammation
Restore the youthful energy
Combat several health diseases
Fight fatigue, pain, heart attack, et cetera
Maintain your blood sugar levels
Patriot Power Greens Review: Dosage Instructions
To get the desired results, you need to add one serving size scoop of powder to a glass of water, smoothie, or juice.
#Note: To get better results, take this powder alongside healthy fats like nuts, avocado, and many more.
Patriot Power Greens: Some Negative Aspects
There is no information available regarding the ingredients quantity.
Some users may experience a gastrointestinal side-effect while taking this supplement for the first time.
Some users may be allergic to some of the ingredients used in this product.
Are There Any Adverse Effects Of This Overall Wellness Formula?
Though the product is prepared by using organic sweeteners and colors still it may have some side effects. The reason for it is, that it contains sea vegetables and several fruits which might cause an allergic reaction to some users. So, it's wise to take doctor's advice before taking this overall health supplement.
Patriot Power Greens: How To Buy?
Patriot Power Greens is available online only. You can grab the canister by visiting its official website. The price of the bottle will decrease as the quantity increases.
1 canister (30-days): $59
3 canisters (90-days): $149
If you are not satisfied with the product, you can return the supplement on the given address:
Patriot Health Alliance
ATTN: RETURNS DEPARTMENT
1545 South 4800 West
Salt Lake City, UT 84104
You can also contact the customer service team:
1 /1