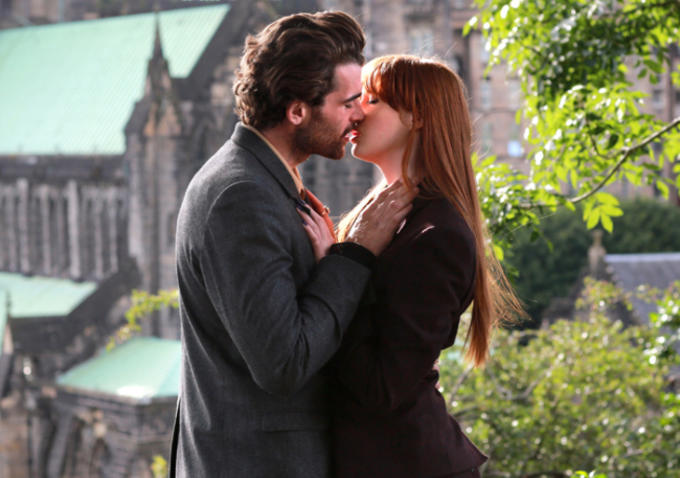 Best Romantic Movies!
Meeting up accidentally, fighting and standing against each other, spending some quality time with each other through some means or the other and then finally falling in love and that too with each other! This is the picture perfect plot for most of the romantic movies. It may sound like a typical romance, but it really makes everyone go awwwwww! So, why not give a romantic twist to your relationship and spice it up with the serving of best romantic movies at your home and besides your partner. 😉
#Manhattan (1979)
Source: project-nerd.com
Source: jpbohannon.files.wordpress.com
It's specially for the ones who have been in love or have experienced the great feeling of love at least once in their lifetime. Woody Allen, the Director of this movie has designed the plot of this movie in a very interesting way. He has depicted himself as a television writer, who was driven towards novel writing and is dating a 17 year old girlfriend named Tracy. Despite of dealing with the sensitive issue of their age difference, this movie covers the aspects of being beautiful, thoughtful and romantic too.
#Secret (2007)
Source: s398.photobucket.com
Source: i.ytimg.com
It is believed that director Jay Chou shares his personal love story in this movie. Ye Xianglun is the main lead of this movie, who gets attracted to Lu Xiaoyu (actress) after moving to his high school. This Chinese romantic flick is about the secret of the beautiful melody that Lu Xiaoyu plays and obviously the cute romance that they both share. It will definitely make you believe in the beautiful feeling of love!
#The Proposal (2009)
Source: blog.nuffnang.com.sg
Source: sbullock.net
The story actually revolves around the plot of involving into a business deal and then evolving it into a genuine romance. Sandra Bullock is playing the role of hard-headed book editor, who is hated by her entire staff. After discovering that she is being deported to Canada, she tries hard to arrange her fake marriage with her assistant Andrew (played by Ryan Reynolds). Despite of their cute fights, their blossoming romance makes this movie worth watching!
#The Notebook (2004)
Source: aaronzigman.com
Source: s-media-cache-ak0.pinimg.com
This was the only movie, which makes me cry every single time I go through it. Allie and Noah are the two main leads of this movie, who fall in the ocean of pond after meeting up at a carnival. But, due to Allie's rich family status, they are forced to stay apart. What follows next, I definitely a must to watch!
# A Walk To Remember (2002)
source: coverlayout.com
Source: hellogiggles.hellogiggles.netdna-cdn.com
A must watch movie for the ones, who want to feel the true meaning of actual love. It is a novel-turned-movie, in which Mandy Moore plays the role of an ambitious girl, who holds great future plans. On other hand, Landon Carter is a popular student with no definite plans in his life. The two do fall in love, but they tend to realize the true meaning of love after a the acknowledgement of a heart breaking secret.
# Adventureland (2009)
Source: graphics8.nytimes.com
Source: caprichosdeayame.com
The teenage romance is very well depicted through this movie. James (Ryan Reynolds) gets stuck with a lame summer job of serving at Adventureland, an amusement park of his hometown. It's here, where he meets Em (Kristen Stewart) and falls for her. Through this painful learning experience, James discovers much more about himself and what he actually values.
#(500) Days Of Summer (2009)
source: kelseyzukowski.com 
Source: graphics8.nytimes.com
One sided romance or love at first sight, be it any case, this movie depicts it all in a pleasant manner. It is about displaying the romantic side of Tom in front of the girl named Summer, who is the girl of his dreams. On other hand, Summer doesn't believe in true love and neither accepts Tom as her boyfriend. The story then follows the heart breaking experience of tom spend in his obsession over Summer.
I am sure, you must have felt the warmth of love and care by now. So, set a proper environment for you and your partner and enjoy the movie hand-in-hand with your loving partner! 🙂
1 /1