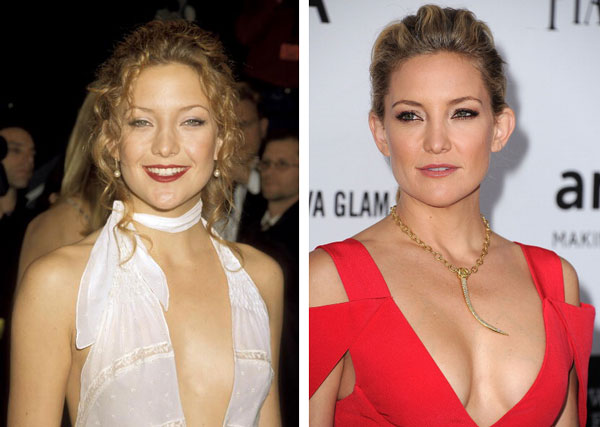 Boob Job – Celebs with Boob jobs!

More is always better! Though this fact may not apply to the piece of our dress, but, it surely applies to our body indeed. Apparently, we (women) all quest for having a bustier and sexier body shape mainly to satisfy ourselves and obviously to our guys too! Well, the trending way to do so is to get an accurate boob job. However, this measure is mainly famous with our well known celebrities. In order to pitch the right chord of a successful career and obviously men's crotch, most of them settle for boobs implantation. It seems like, the technology has proved as a good investment for many of them.
Let's have a peek in their artificially enhanced assets…
# Kate Hudson
Personally, I always used to love her for her simplicity and how she never made a big deal about having a small bust. But, things were not actually as they seemed to. It must be bothering her more than I could actually think and that's the reason she gifted her with new breasts on her 31st birthday. Thankfully, the actress went for a subtle enlargement only!
Source: http://content.hollywire.com
Source: http://plasticsurgerykpop.com/
# Audrina Patridge
This celebrity claims not to undergo the knife for making her upper asset appear larger and fuller. She puts all the blame on her chest deformity which makes her breasts look of different sizes. Though I am not sure what made her boobs go from small to big and the rumor remains mystery…
Source: http://brucejennerplasticsurgery.com/
Source: http://www.surgery-celebrity.com/
# Tara Reid
From barely having any breasts, Tara Reid went about achieving bigger and fuller boobs. She openly admitted about having boobs implantation not because she wanted to feel like a complete woman, but, because of her chest problem and deformed bust. Although, she did not roved lucky, even there, as her first surgery was botched and she was forced to go for a second one to sort them out.  Must say poor Tara!
Source: http://3.bp.blogspot.com/
Source: http://plasticsurgerykicks.com/
# Mariah Carey
She started her career in 1993 as a singer and at that time, she was supporting a decent B-cup. However, in 2006, her bust started appearing a whole lot bigger than earlier. There are chances of having her boob job done but, the speculations have never been confirmed.
Source: http://www.celeb-surgery.com/
Source: http://celebritysurgerynews.com/
# Taylor Swift
Her super slim body and small boobs suits her entire frame, but, I think she was not happy with them. She wanted more out of them and may be that's the reason which lead her for the option of having a boob job. Though the reports are not yet confirmed by her but, there's surely an intervention.
Source: http://hollywoodrooster.com/
Source: http://4.bp.blogspot.com/
# Hayden Panettiere
She too is one among the list of celebrities who have never confirmed about her sudden bigger busts. The mystery of supporting a cute and subtle cleavage since 2006 to having fuller boobs in 2012, the actress has many jaws left open. Mysterious indeed!
Source: http://wf-blogs.sharecdn.com/
Source: http://lovelysurgery.com/
# Pamela Anderson
The pictures itself reveals about her transformation from 1983 to 1990. Her journey from being a demure dresser for one of the most popular Playboy cover girls of all time can be very well explained through the transformation of her breasts. She had her first breast implant surgery in 1990 and nine years later, got them removed to replace them with even bigger ones.
Source: http://static.entertainmentwise.com/Source: http://awfulplasticsurgery.com/
# Rose McGowan
She is one of the well known celebrities, who seems to have undergone a lot of plastic surgery. She might have done the same with her boobs as now they appear bigger than before. However, we can't confirm the news as the mystery remains unsolved from her side.
Source: http://www.revealyourbeauty.com/
Source: http://www.beforeandafterceleb.com/
The common thing among all the celebrities is that many of them have gotten their implants, regardless of whether they needed them or not. It has become like a trend rather than fulfilling the needs. But, whatever the case may be, men will be men and will always ogle at those big things regardless of them being natural or artificial! 😉
1 /1